Im Dezember findet das erste Treffen einer Gruppe von Pionieren in einem sich rasch entwickelnden Bereich statt, der das Potenzial hat, die Art und Weise, wie wir Krebspatienten mit Strahlentherapie behandeln, zu verändern.
Die FRPT (FLASH RADIOTHERAPY AND PARTICLE THERAPY)-Konferenz 2021 befasst sich mit den Strahlentherapien von heute sowie mit der Forschung und den Studien, die die onkologische Behandlung von morgen prägen werden. Dies ist das erste multidisziplinäre Forum, auf dem die neuesten Forschungsergebnisse zur FLASH- und Partikeltherapie vorgestellt werden und das führende Vertreter der akademischen und klinischen Forschung, Anbieter aus der Strahlentherapiebranche und ein internationales Publikum zusammenbringt.
FLASH RADIOTHERAPY AND PARTICLE THERAPY CONFERENCE1-3 DEZEMBER 2021 | WIEN UND ONLINE
Das Mitglied des Organisationskomitees, Professor Karen J. Kirkby von der PRECISE-Gruppe an der Universität Manchester und dem Christie NHS Foundation Trust, hat bei der Entwicklung der weltweit ersten Protonenradiobiologie-Arbeitsstation mit modifizierter Atmosphäre und integriertem Roboterarm eng mit Don Whitley Scientific zusammengearbeitet. Diese Arbeitsstation wird zur Erforschung von Krebsbehandlungen eingesetzt, und die PRECISE-Gruppe wird auf der Tagung in Wien ein Poster präsentieren.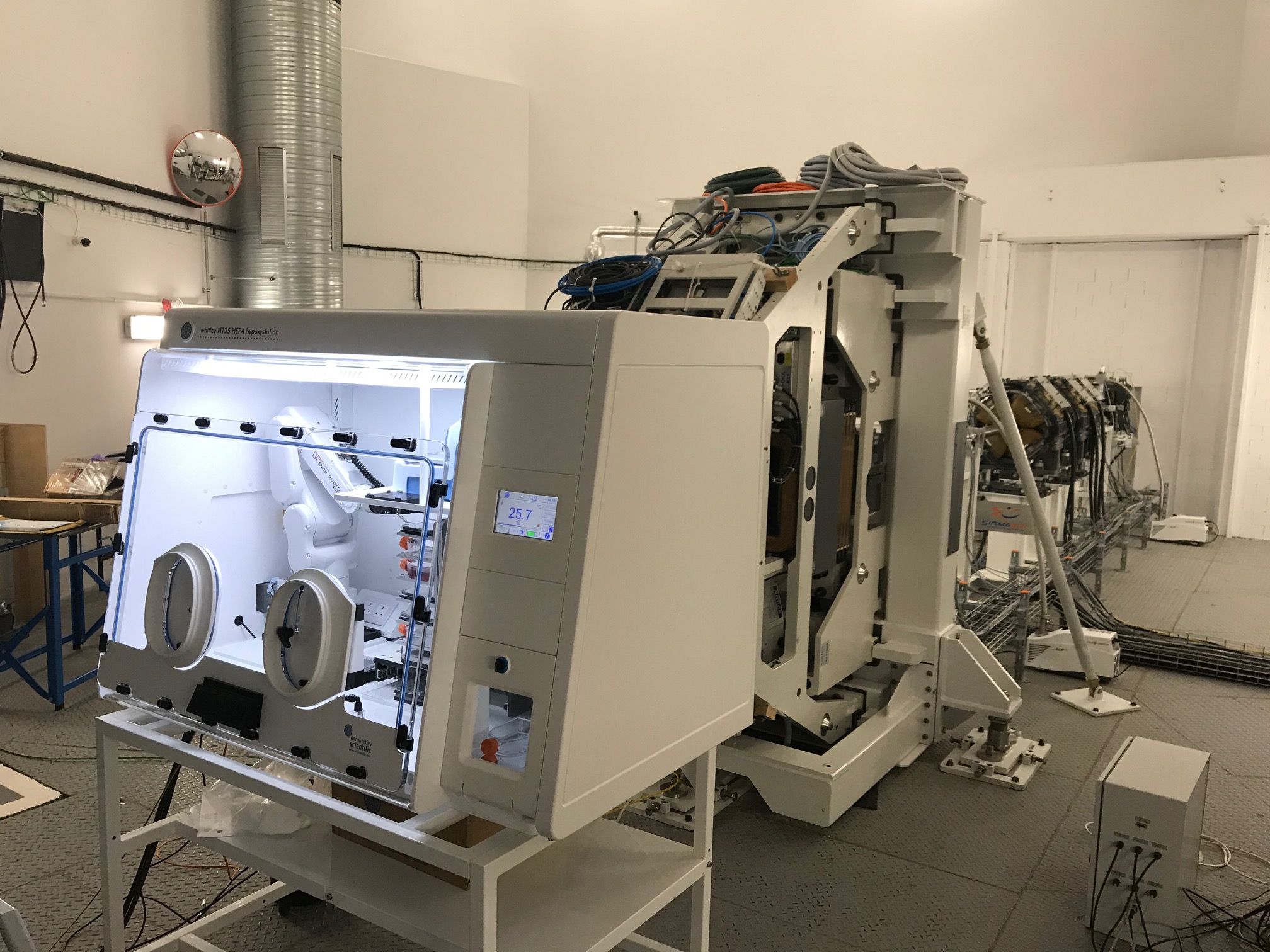 Das Protonenstrahl-Therapiezentrum im The Christie in Manchester ist das erste NHS-Zentrum für Hochenergie-Protonenstrahltherapie im Vereinigten Königreich. Innerhalb der Einrichtung gibt es einen speziellen Forschungsraum, der von der Christie Charity finanziert wurde und in dem diese neue Whitley Arbeitsstation betrieben wird. Die Arbeitsstation mit integriertem Roboterarm wurde mit Mitteln des CRUK Manchester Major Centre finanziert.
Die Protonenstrahltherapie (PBT – Proton Beam Therapy) ist eine fortschrittliche Form der Strahlentherapie, bei der anstelle von Röntgenstrahlen ein hochenergetischer Protonenstrahl zur Strahlentherapie eingesetzt wird. Die PBT lenkt die Strahlenbehandlung genau dorthin, wo sie benötigt wird, und schädigt das umliegende Gewebe weniger.
Diese spezielle Arbeitsstation, die von einer Whitley H135 HEPA Arbeitsstation übernommen wurde, steuert:
Sauerstoff in 0,1%-Schritten bis zu 20%;
Kohlendioxid in 0,1%-Schritten bis zu 15%;
Temperatur bis zu 45°C;
relative Luftfeuchtigkeit bis zu 80 %.
Die Forscher können die idealen Bedingungen für ihre Experimente einstellen, die für die Erforschung der Reaktion von hypoxischen Zellen auf Protonen- oder Protonen-FLASH-Bestrahlung unerlässlich sind. Innerhalb der Arbeitsstation befindet sich ein Regalsystem, das der Benutzer mit bis zu 36 Proben in Multi-Well-Platten und/oder Gewebekulturflaschen bestücken kann. Die Arbeitsstation ist mit einem präzisen, mehrachsigen Industrieroboter ausgestattet, so dass die Proben aus dem Regalsystem entnommen, der Strahlung ausgesetzt und dann in das Regal zurückgebracht werden können. Diese Anordnung automatisiert den Prüfprozess, so dass die größtmögliche Anzahl von Experimenten unter wiederholbaren Bedingungen und in kürzester Zeit ohne menschliches Eingreifen durchgeführt werden kann.
Es besteht die Hoffnung, dass die FRPT-Konferenz 2021 das Potenzial dieser innovativen Strahlentherapie in den Vordergrund rückt und aufzeigt, wie sie die Krebsbehandlung revolutionieren könnte.