Anotox® is a pelletized, activated carbon product which has been chemically impregnated to enhance its capacity to bind & adsorb hydrogen sulphide (H2S). Invented - and used exclusively - by Don Whitley Scientifc, Anotox® has a large surface area to volume ratio and can efficiently adsorb both H2S and volatile fatty acids (VFAs).
H2S and VFAs are the metabolic products of various anaerobic bacteria. H2S can damage anaerobic catalyst irreversibly, while both H2S and VFAs will inhibit bacterial growth if allowed to accumulate. Independent evaluation has shown that Anotox® can prolong catalyst life significantly and improve bacterial growth in anaerobic culture systems (Brazier, 1981).
The use of Anotox® in anaerobic workstations is well established and does not usually require any attention from users (microbiologists) because Anotox® sachets in Whitley Workstations are replaced by trained engineers during routine servicing.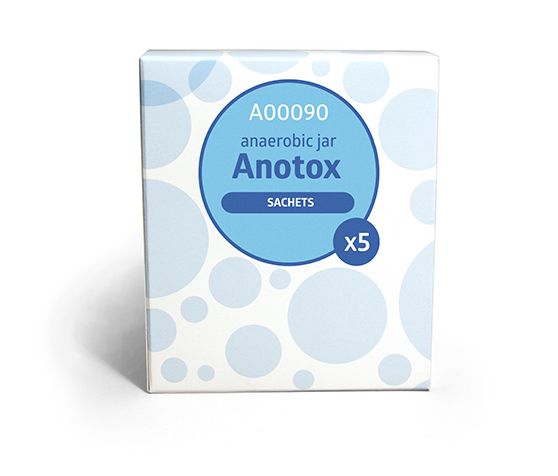 Anotox® is now available in small sachets specifically designed for use in anaerobic jars. Each anaerobic jar Anotox® sachet contains sufficient Anotox® for use in a jar of up to 3.5 litres (internal volume). A single sachet should be placed inside the jar in addition to the anaerobic catalyst sachet, before the jar is sealed and made anaerobic. When used in this way, the Anotox® sachet will protect the catalyst from poisoning by H2S and will adsorb toxic volatile compounds produced during incubation. In turn, this will protect the catalyst from damage by H2S and will ensure optimal growth of bacteria, either from pure cultures or from samples containing a mixed bacterial population. This is particularly important in situations where it is not certain which types of anaerobic bacteria are likely to grow on the incubated plates (for example, when testing clinical specimens).
The inclusion of Anotox® in a jar, in conjunction with proper maintenance of the jar and monitoring of anaerobic conditions, provides an additional degree of quality assurance by eliminating one of the factors that may inhibit recovery of anaerobes from specimens.
Anotox® sachets for use in anaerobic jars are available in packs of 5 – product code A00090.
Anotox® is a registered trademark owned by Don Whitley Scientific Limited.
Reference:
Brazier J (1982) Appraisal of Anotox, a new anaerobic atmospheric detoxifying agent for use in anaerobic cabinets. Journal of Clinical Pathology 35, 233-238.