Whitley A35 Arbeitsstation

Unsere vielseitigste und beliebteste anaerobe Arbeitsstation
zum Zoomen über das Bild rollen
Die Whitley A35 Arbeitsstation bietet hervorragende Bedingungen für die Verarbeitung, Inkubation und Untersuchung von Proben ohne Sauerstoffeinwirkung. Diese anaerobe Kammer bietet die Möglichkeit, Proben in einer nachhaltigen Umgebung zu manipulieren, in der Parameter geändert werden können, um die erforderlichen Bedingungen zu schaffen. Anwendungen für diese Arbeitsstation umfassen klinische Mikrobiologie, Zahnmedizin und die Erforschung des menschlichen Darmmikrobioms.

Die Standard-A35 verfügt über zwei ovale Handeingänge mit Stulpen an einer festen Frontscheibe. Diese Arbeitsstation kann auch mit unserem einzigartigen Handeingangssystem mit sofortigem Zugriff ausgestattet werden, das den sekundenschnellen Zugang zur Kammer ermöglicht und weder Handschuhe noch Stulpen benötigt. Weitere Optionen sind die HEPA-Filtration, ein integriertes System zur Überwachung anaerober Bedingungen und ein Katalysatorüberwachungssystem mit Daten-Download-Funktion.

Die Probenmanipulation in einer sicheren anaeroben Umgebung ist jetzt so einfach wie das aerobe Arbeiten auf dem Labortisch.
Platz für bis zu 600 x 90 mm große Petrischalen
Ein farbiges Touchscreen-Bedienfeld zur einfachen Bedienung und visuellen Anzeige von Parametern wie Temperatur, Luftfeuchtigkeit und Schleusenzyklusstatus
Beim HEPA-Modell werden die Anforderungen der ISO 14644 Klasse 3 erfüllt
Erhältlich mit abnehmbarer Frontscheibe, um die gründliche Reinigung und den Transport von Proben und weiteren Geräten für den Einsatz in der Arbeitsstation zu erleichtern
Die eingebaute Schleusen sorgt dafür, dass die Proben so schnell wie möglich in die Arbeitsplatzatmosphäre transportiert werden können
Ethernet-fähig für den Fernzugriff auf den Touchscreen
Enthält einen automatischen Inbetriebnahmezyklus, um Zeit und Ressourcen zu sparen
Manuelles oder stulpenloses System
Automatische Stulpenbegasung
Schleusenzyklusdauer (Sekunden)
Standard 60 (Option to increase in 1min increments to 5mins)
zusätzliche druckdichte Kabeleinführung
Automatisches Entfeuchtungssystem
Automatisches Befeuchtungssystem
5°C über Umgebungstemperatur bis zu 45°C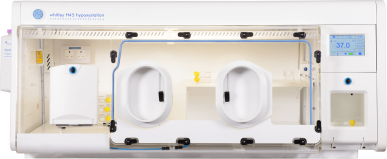 Wenn Sie mehr Platz benötigen, probieren Sie die Whitley A45 Anaerobe Arbeitsstation!
Whitley A45 Arbeitsstation