Die PRECISE Group an der Universität von Manchester, der Christie NHS Foundation Trust und Don Whitley Scientific haben heute die weltweit erste Proton Radiobiology Modified Atmosphere Arbeitsstation mit integriertem Roboterarm angekündigt, die für die Erforschung von Krebsbehandlungen verwendet wird. Das Protonenstrahl-Therapiezentrum in The Christie, Manchester, ist das erste NHS-Hochenergie-Protonenstrahl-Therapiezentrum in Großbritannien. Innerhalb der Einrichtung gibt es einen speziellen Forschungsraum, der von The Christie Charity finanziert wurde und in dem diese neue Whitley Arbeitsstation betrieben wird. Die Arbeitsstation mit integriertem Roboterarm wurde aus Mitteln des CRUK Manchester Major Centre finanziert.
Die Protonenstrahl-Therapie (PBT) ist eine fortschrittliche Form der Strahlentherapie, bei der ein energiereicher Protonenstrahl anstelle von energiereichen Röntgenstrahlen verwendet wird, um eine Strahlentherapie durchzuführen. PBT lenkt die Bestrahlung genau dorthin, wo sie benötigt wird, wobei das umgebende Gewebe weniger geschädigt wird.
Vor einigen Jahren wurde Don Whitley Scientific von der PRECISE Group (Bild) gebeten, bei der Herstellung einer speziellen Arbeitsstation zusammenzuarbeiten, damit mehrere Experimente schnell und effizient unter hypoxischen Bedingungen durchgeführt werden können.
Evan Kitsell, Design Direktor von DWS: "Wir haben uns sehr gefreut, von der PRECISE Group der Universität von Manchester eingeladen zu werden, mit ihnen bei der Entwicklung der ersten Arbeitsstation mit modifizierter Atmosphäre dieses Typs zusammenzuarbeiten. Wir haben sehr eng mit ihnen zusammengearbeitet, um sicherzustellen, dass ihr bevorzugtes Protokoll in einer Whitley Arbeitsstation verwendet werden kann. Es ist gut zu wissen, dass dieses Projekt das Verständnis für den besten Einsatz von PBT im laufenden Kampf gegen Krebs beschleunigen wird. "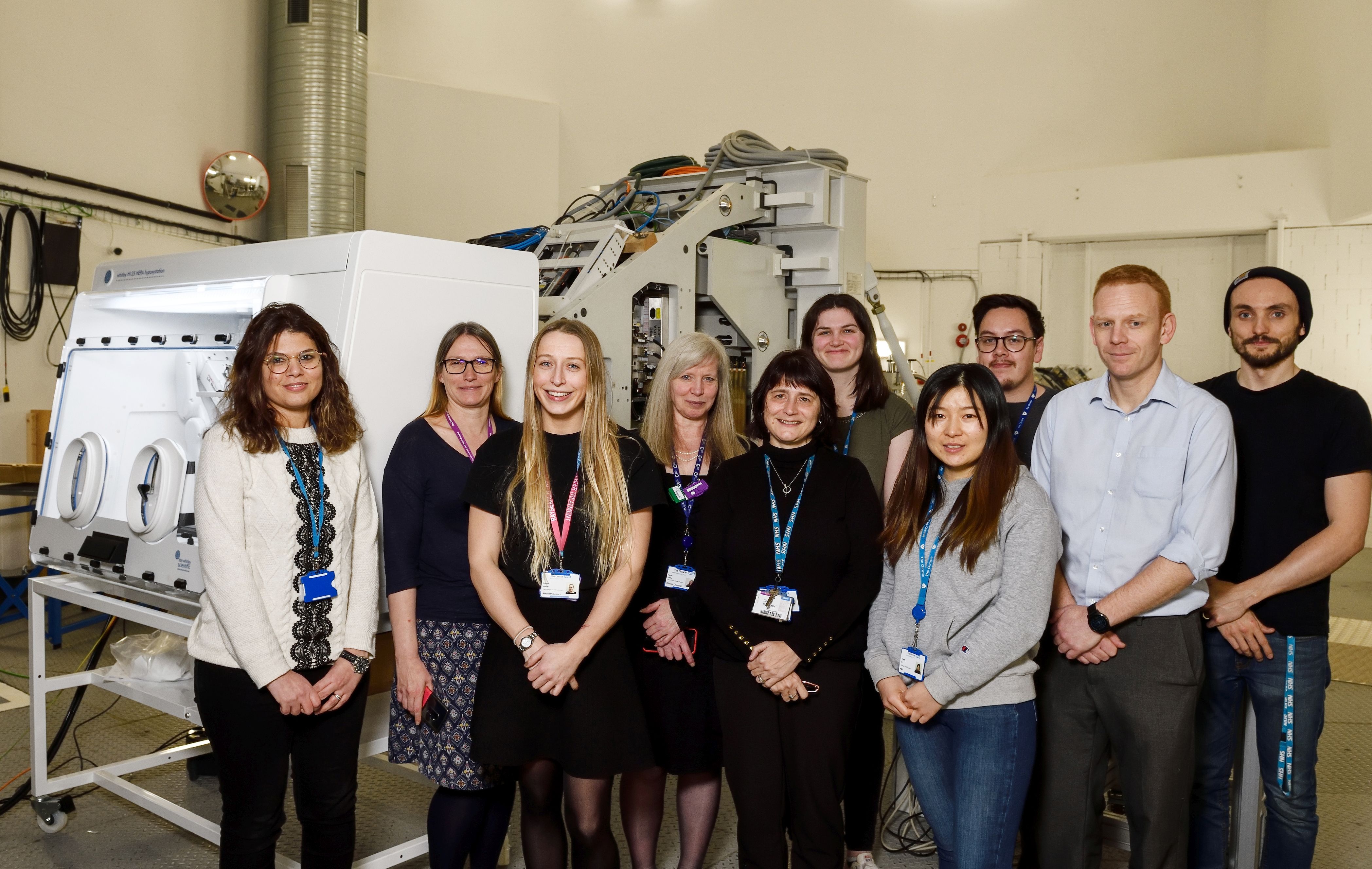 Die Arbeitsstation steuert den Sauerstoff in Schritten von 0,1% bis zu 20%. Kohlendioxid in Schritten von 0,1% bis zu 15%; und relative Luftfeuchtigkeit bis zu 80%. Die Forscher sind in der Lage, die idealen Bedingungen für ihre Experimente zu schaffen, die für die Erforschung der Reaktion hypoxischer Zellen auf Protonen- oder Protonenblitzbestrahlung unerlässlich sind. Innerhalb der Proton Radiobiology Modified Atmosphere Arbeitsstation gibt es ein Regalsystem, mit dem Benutzer bis zu 36 Proben in Platten mit mehreren Vertiefungen und / oder Gewebekulturflaschen vorladen können. Die Arbeitsstation verfügt über einen präzisen mehrachsigen Industrieroboter, mit dem Proben aus dem Regalsystem entnommen, dem Strahl ausgesetzt und dann in das Regal zurückgeführt werden können. Diese Anordnung automatisiert den Testprozess, so dass die größtmögliche Anzahl von Experimenten unter wiederholbaren Bedingungen und in kürzester Zeit ohne menschliches Eingreifen durchgeführt werden kann.
Professor Karen Kirkby von der University of Manchester und The Christie erklärte: "Wir haben es wirklich genossen, mit Don Whitley Scientific an diesem Projekt zu arbeiten. Wir waren fasziniert von ihrer Herangehensweise an die Produktentwicklung, die eine Kombination aus der Zeit um unsere Bedürfnisse zu verstehen, Brainstorming, traditionellem Modellbau, branchenüblicher solider 3D-Modellierung und altmodischem gesunden Menschenverstand war. Das DWS-Team hat die Vorstellungen weit übertroffen, um sicherzustellen, dass die gelieferte Arbeitsstation unsere Erwartungen übertrifft. Wir hoffen, in den nächsten Wochen mit Experimenten beginnen zu können, auf die wir uns so lange gefreut haben. "
Es ist von großer Bedeutung, dass die erste Arbeitsstation mit modifizierter Atmosphäre dieses Typs in Manchester installiert wird, wo das Proton Anfang des 20. Jahrhunderts von Sir Ernest Rutherford entdeckt wurde. Das Potenzial zur Behandlung von Patienten mit Protonen wurde bereits Mitte der 1940er Jahre erkannt